Shopping Cart
Your Cart is Empty
There was an error with PayPal
Click here to try again
Thank you for your business!
You should be receiving an order confirmation from Paypal shortly.
Exit Shopping Cart
The Emergence Leadership Advantage
Creating Pathways to Leadership
Live the Life You Imagined​
Which habits have you incorporated into your daily routine? Is your mindset that of the rich?  If wealth is what you seek, you may have to adjust your mindset and habits.
http://www.entrepreneur.com/article/235228
At times in our life, someone can create an impact on our subconscious that we don't think about until we are in a moment. I heard 
Joyce Meyer Ministries
 speak years ago and she talked about doing what is right - down to taking your shopping cart back to the proper area when you have put all your bags in the car. Something so small that I didn't think much of at the time. However, every time I go to the grocery store, I can not leave my cart in the parking lot. I have to walk it back to the proper cart parking area - even in the rain and the cold I am forced to do so. She has created a consciousness of this one small task that I have not been able to shake. Also, keeping in mind the ones your choice here impacts - I am sure that it is greatly appreciated by the store clerk who has to go through the parking lot rounding up carts in random places and by the person whose car was saved a ding by some flying cart that the wind sent sailing through the parking lot.
Awareness can help change your attitude and in term impact someone else's. Remember, it is not always about you. How aware are you? This video may change your outlook on your day. 
http://www.mobiledia.com/news/194130.html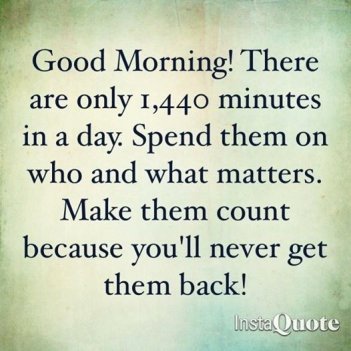 How are you spending your minutes? Think you don't have time to realize your dreams. Take the next week logging how you spend your minutes on work, tv, sleep, eating, family, errands, etc. You will be amazed at the time you will find you are wasting on things that are not important to you. Use your time wisely, and you can find the time to do the things that are important to you and help you realize your dreams. Live the Life You Imagined! 

‪#‎ActivateMovement‬

"It might be nice if everything were to play out according to your plan, but the thing is, it won't. There will most certainly be surprises, so you might as well find a way to make positive use of them". - Ralph Marston

How can you use them to move you forward?

"You alone are enough. You have nothing to prove to anyone." ~Maya Angelou

I don't regret the things I have done. I regret the things I didn't do when I had the chance. I have proclaimed "No more regrets!" Will you do the same?

Worry is like rocking in a rocking chair. It keeps you busy but you never get anywhere. - Joyce Meyers


Do you find yourself spending minutes, hours, even days rocking away worrying about your finances, job, children, family, how you are going to fit everything in today, etc.?  Feet down, stand up, take one step - now you are that much closer to achieving your goals and dreams.  One step at a time is all it takes - and gets you that much further from all the worry.  What will you do today to get you to where you want to be?

"Don't promise when you are happy, don't reply when you are angry, and don't decide when you are sad." ~Unknown

"The poor man is not he who is without a cent, but he who is without a dream." ~Harry Kemp



0

/